Reverse Osmosis For Water Recycle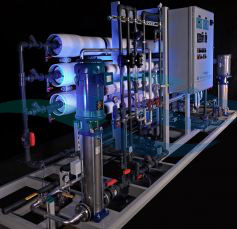 Reverse Osmosis is used the world over for everything from point source water purification to municipal drinking water supply purification, few technologies are so scalable and reliable, when so much is at stake. Our engineering process has taken the science of water recycle and applied it to industrial waste water streams. LT Technologies is one of the few companies in the world with operational water and wastewater recycle systems using Reverse Osmosis Technologies.
We have achieved this in part by working with innovative membrane manufacturers, to develop solutions that make this technology viable in the most challenging mixed waste stream environments. As the substrate quality and design continues to evolve and improve, so do our capabilities of systemizations that make sense, in today's water challenged environments.
Regulatory agencies, water districts and the global community demand successful, smart businesses look seriously at water use reduction technologies and that means recycling waste water. Our systemizations answer that challenge every day the world over. How can we help you?
For a greater understanding of the recycling purification technologies represented please call us or download easily printed documentation using the links below.

Environmental Water Recycle Purification Technologies


Econo DI Water Make-Up Systems